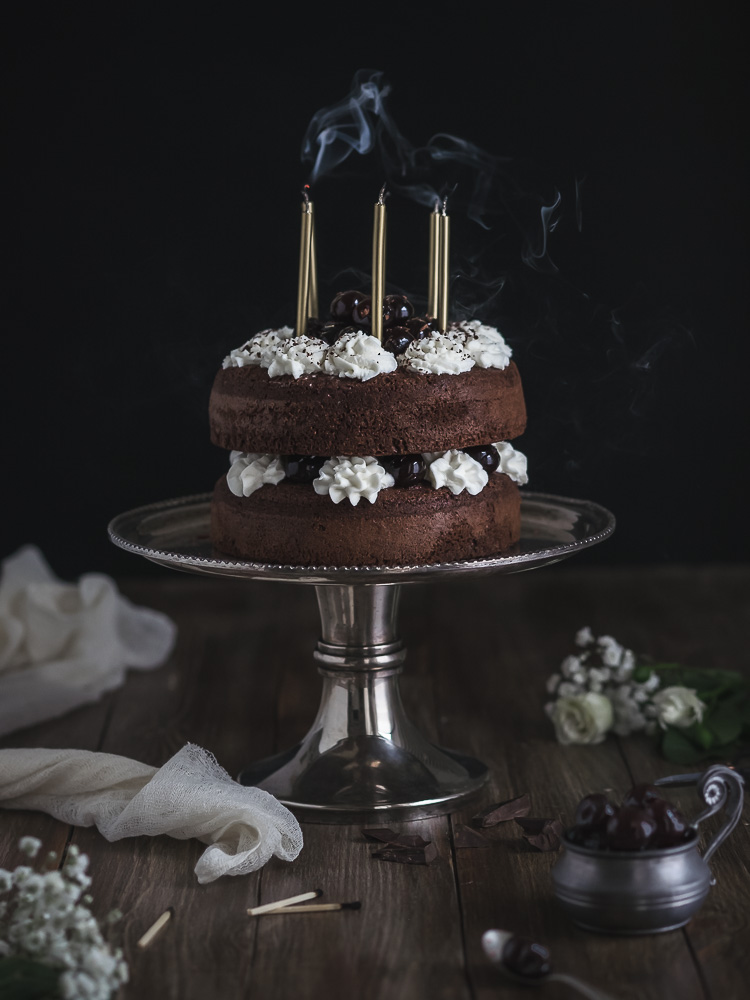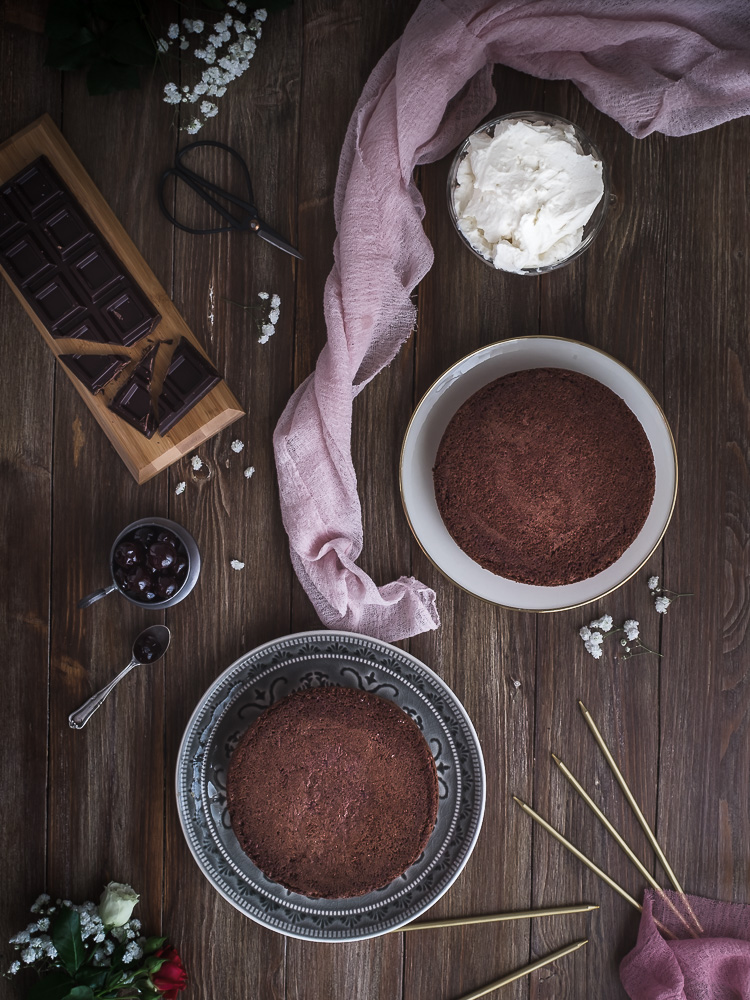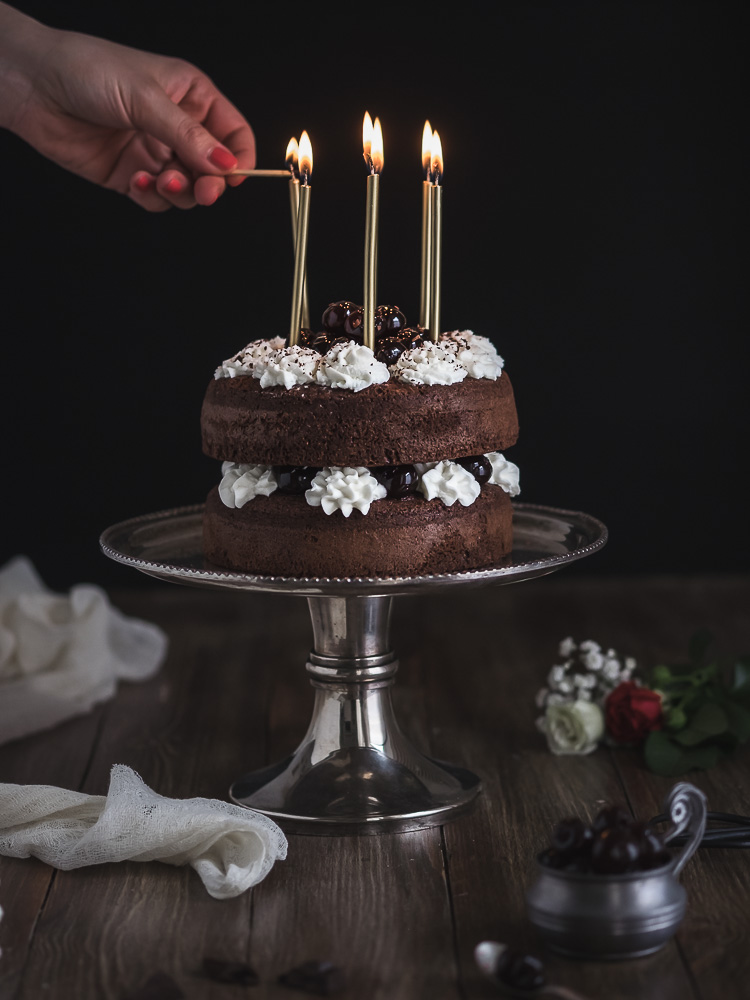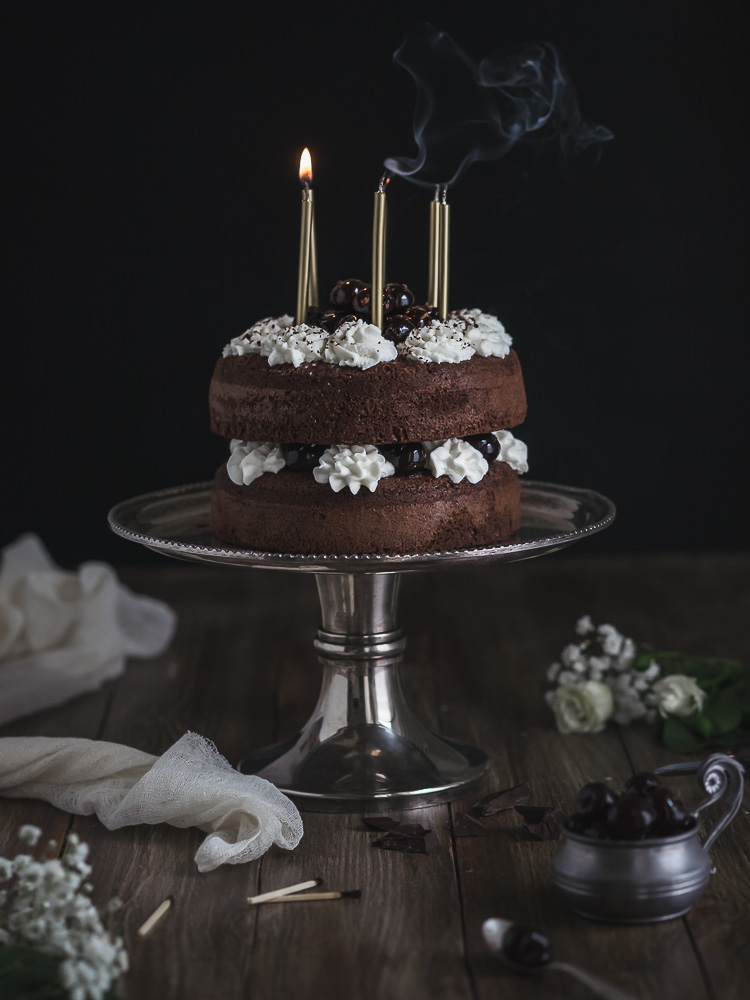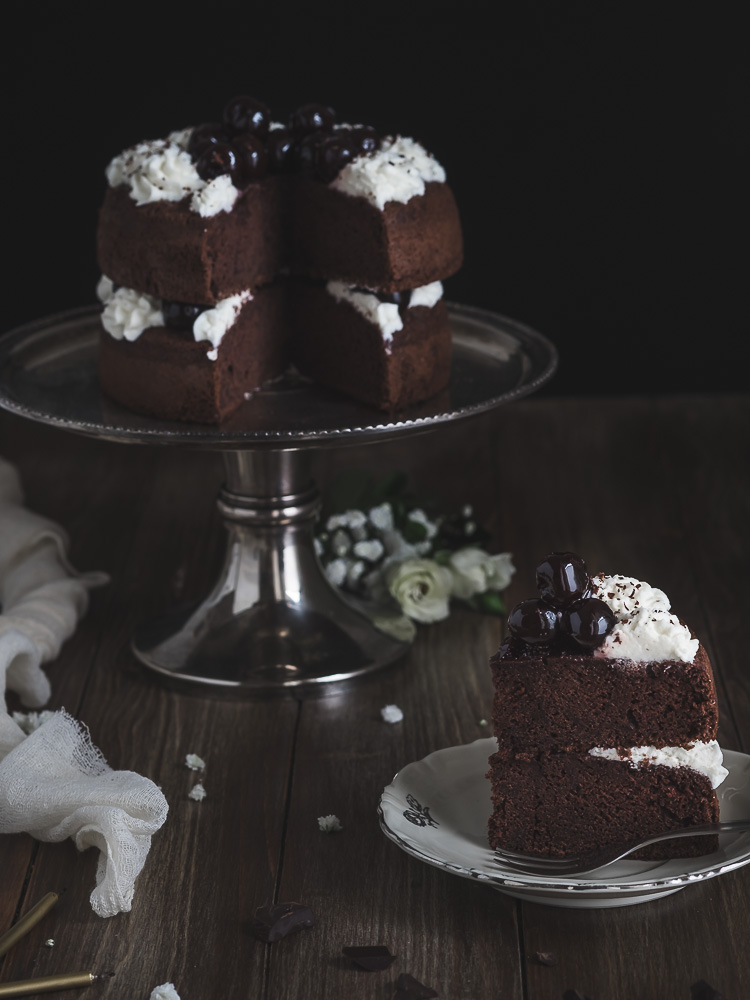 A reinterpretation of a classic: black forest cake. For the sponges I followed the recipe of the amazing and lovely Cupcake Jemma, I have just reduced the amount and substituted vegetable oil with coconut oil. Instead of chantilly cream I went for my beloved mascarpone icing, which has a perfect flavor and consistency. 
Also, instead of fresh cherries I used the delicious candied Amarene by Fabbri, they are such a perfect treat. I must admit the shooting of this cake has been the most complicated I ever took but when I finally eat the cake I almost forgot everything as this cake is pure heaven.
---
ITALIAN VERSION
TORTA FORESTA NERA
Ecco a voi una reinterpretazione di un grande classico: la torta della foresta nera. Per la torta al cioccolato ho seguito la ricetta della bravissima Cupcake Jemma, ho semplicemente riadattato le quantità e utilizzato l'olio di cocco al posto dell'olio di semi. Invece della crema chantilly che viene tradizionalmente impiegata in questa ricetta ho preferito affidarmi alla mia amatissima crema al mascarpone, veloce da fare, ha la giusta consistenza, non è troppo dolce, è bianchissima e quindi secondo me è perfetta. E poi le amarene Fabbri, e non credo di dover aggiungere altro, lo sapete bene quanto sono spettacolari. La sessione di shooting questa volta è stata davvero impegnativa ma quando ho finalmente potuto mangiarmi la mia fettazza ho dimenticato ogni sforzo!
Ingredienti
4 uova grandi
70 ml olio di cocco
120 ml acqua
220 g zucchero
30 g cacao amaro in polvere
180 g farina
½ cucchiaino bicarbonato di sodio
estratto di vaniglia
pizzico di sale
20-30 amarene candite in sciroppo Fabbri
Per la bagna
1 cucchiaino Kirsch
1½ cucchiaino sciroppo amarena fabbri
Icing al mascarpone
100-200 g zucchero a velo
250 g mascarpone, freddo
500 ml panna fresca
estratto di vaniglia
Procedimento
Separare i tuorli dagli albumi in due ciotole.
Nella ciotola con i tuorli aggiungere l'olio, l'acqua, l'estratto di vaniglia e mescolare bene.
Aggiungere gli ingredienti secchi setacciati e mescolare fino ad ottenere un composto liscio e omogeneo.
Montare gli albumi a neve ben ferma e unirli al resto del composto senza smontarlo.
Dividere l'imposto in due teglie da 15 cm di diametro foderate con carta da forno, e cuocere in forno preriscaldato a 175° per circa 25-30 minuti.
Lasciar raffreddare leggermente le torte e sformarle. Livellare la superficie con un coltello affilato.
Con un pennello bagnare la superficie delle torte con la bagna di sciroppo di ciliegie e kirsch.
Per la crema al mascarpone, inserite tutti gli ingredienti ben freddi in una ciotola e montare con le fruste elettriche. Potete anche aggiungere 1-2 cucchiai di sciroppo di amarene.
Montare la torta: cospargere il primo strato con la crema al mascarpone con l'aiuto di una spatola oppure con una tasca da pasticcere, disporvi le amarene, appoggiare sopra delicatamente il secondo disco.
Per la decorazione della superficie della torta ho preferito un effetto "naked cake" e ho creato dei ciuffetti con la sac-à-poche e decorato con le amarene nel mezzo, ma voi potete anche distribuire la crema su tutta la superficie in modo da ricoprire la torta e poi decorarla con riccioli di cioccolato per un effetto più tradizionale.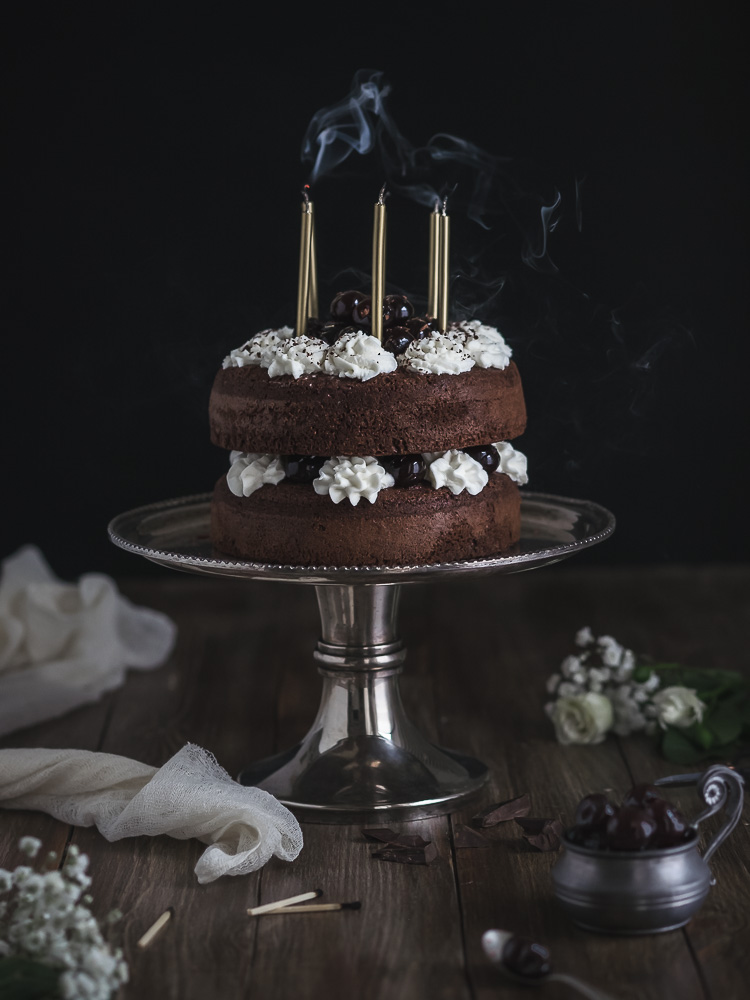 Print Recipe
Ingredients
CHOCOLATE CAKE

4 large eggs

70 ml coconut oil

120 ml water

220 g caster sugar

30 g cocoa powder (Dutch process)

180 g flour

½ tsp bicarbonate of soda

vanilla extract

pinch of salt

20-30 amarena Fabbri cherries

CHERRY SYRUP

1 tbs Kirsch

1½ tbs amarena fabbri cherry syrup

MASCARPONE CHEESE FROSTING

100-200 g icing sugar

250 g cold mascarpone cheese

500 ml heavy cream

vanilla extract
Notes
Per due teglie da 15cm di diametro / For two 6-inches cake tins